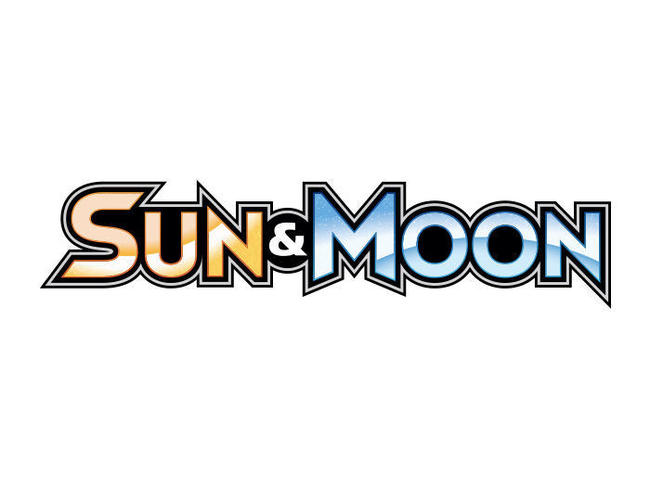 The battles heat up with Pokémon from the tropical Alola region in the Pokémon Trading Card Game: Sun & Moon expansion. Start your journey with Rowlet, Litten, and Popplio, then seek out the Legendary Pokémon Solgaleo-GX and Lunala-GX to witness the awesome power of a new kind of Pokémon: each Pokémon-GX brings an attack so devastating that you can use only one of them per game. Discover dozens of never-before-seen Pokémon, Alola forms of some familiar favorites, and new ways to battle in the Pokémon TCG: Sun & Moon expansion.

The Pokémon TCG: Sun & Moon expansion includes:

Over 140 cards
11 new Pokémon-GX featuring a brand-new game mechanic
More than 40 never-before-seen Pokémon from the newly discovered Alola region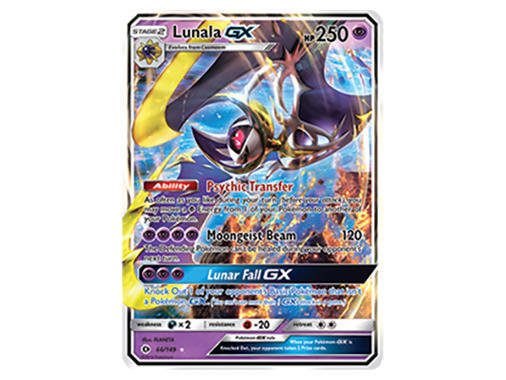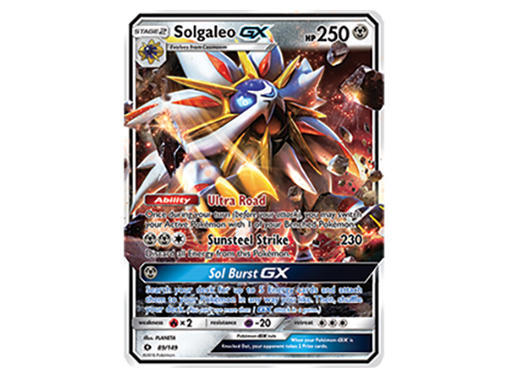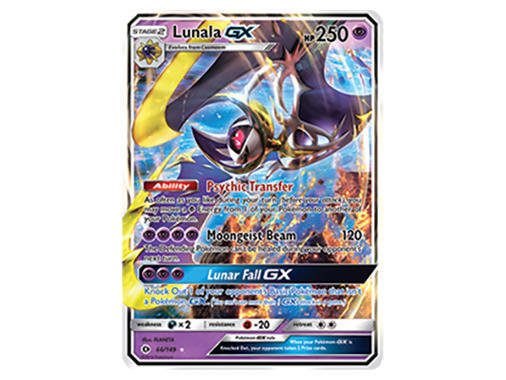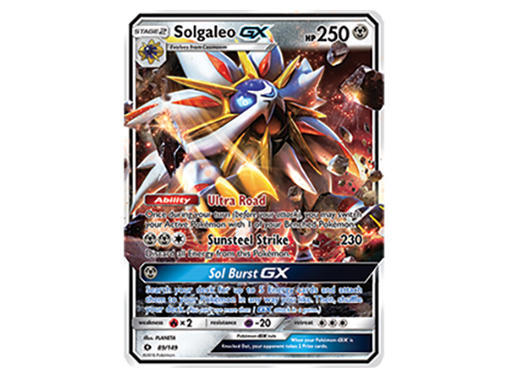 More Details
| | |
| --- | --- |
| Release Date | February 03, 2017 |
| Number of Cards | Over 140 |
| Standard Legal Deck? | Yes |
主题套牌
特色卡牌
Lunala-GX

Lunala-GX has the power to change the tide of battle in so many ways. What will really send your opponent into orbit is its Lunar Fall-GX attack, which will immediately Knock Out any of your opponent's Basic Pokémon, as long as it isn't a Pokémon-GX. With an attack like that, your opponent's chances of winning are clearly waning.

Solgaleo-GX

Heat up your next battle with the brilliant Solgaleo-GX, a Pokémon that is sure to see plenty of daylight in upcoming tournaments. Its Ultra Road Ability alone is worth adding this powerful Pokémon to your deck. The 230-damage Sunsteel Strike and Energy-hunting Sol Burst-GX attack make this card out of this world.

Gumshoos-GX

Stay on the lookout for Gumshoos-GX, whose powers of observation will serve you well in battle. Its Search the Premises Ability lets you peek at your opponent's hand each turn, and its Gumshoe Chance-GX attack will take note of the Energy attached to your opponent's Active Pokémon and use it for major damage.